Richard Irwin 1955-2023
It is with great sadness that we inform you that Richard Irwin, founder of Hymns Without Words, passed away peacefully on 7th December 2023 with his family by his side following a long and hard-fought battle with cancer. Through the music of Hymns Without Words, Richard enriched the lives of so many. We hope that you will continue to use this service in his memory.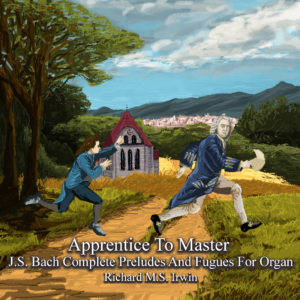 New albums by Richard Irwin
Richard is raising funds for cancer charities Cancer Research and the Prospect Hospice through sales of his CD albums Apprentice to Master: The Complete Preludes and Fugues for Organ and carol collection Christmas Joy. Please support him in this endeavour – worldwide delivery available.
Hymns Without Words: Introduction
Hymns Without Words is a free service providing high quality recording of hymns for use by congregations and choirs, including on-line services. Feel free to browse and download the tracks for your personal or church use. A complete A-Z list is available here. Music for instrumental interludes can be found here. Please subscribe to our occasional newsletter to keep in touch with latest developments.
If you are interested in original hymns and other works by founder Richard Irwin, please follow this link.
Latest Additions
To keep up to date with the latest recordings, add your email address to our newsletter list. Please also follow us on Amazon Music, Apple Music, Tidal, Spotify, SoundCloud, Twitter, YouTube and Facebook.
The Hymns Without Words Lectionary
Season After Pentecost
Advent Year B
Christmas Year B
Season of Epiphany Year B
Evgeni Tcherkasski from Pixabay 
Hymns For General Use
A New Mass
Richard Irwin's son Conrad has written a new mass for four unaccompanied voices. It was premiered in San Francisco in 2022 with Eric Choate conducting.
Click on this link to listen to a recording beautifully conducted by David Simkins with professional singers from Bristol University. The recording can be used as an accompaniment to a communion service, or you can download the score for free. A Mass In Waltz Time
New Hymns
There are many thousands of hymns, and we at Hymns Without Words have only recorded a small fraction. Therefore, we have decided to open the platform to other artists. If you have recorded a hymn that you believe should be included in our collection, then please submit it here. Request a new recording here.
As Bright as a Rose Baptismal Anthem
Written as a christening present for a granddaughter, As Bright As A Rose is a beautiful Baptismal Anthem for SATB, conducted and recorded by David Simkins.
Find it on Apple Music, Deezer, Tidal and Greg Krycinski from Luda Kot from Pixabay
Download hymns mp3, Choir hymns mp3 download, Instrumental hymns free download mp3, Hymns instrumental mp3 free download, Anglican church hymns free mp3 download, Download free hymns old and new mp3, Hymn accompaniment tracks free, 51 instrumental hymns free download mp3