Free MP3 Recordings of Hymns, Carols and Other Works
Hymns Without Words is a service providing quality Free MP3 recordings of hymns and other music for services to accompany choirs and congregations. The web site was established in 2007 and has had millions of visitors. The music is used in churches around the world and in live streams from Zoom, YouTube etc. 
Recordings are often refreshed and new recordings added, so please keep coming back to see what is new.  Click Here for a list of all hymns. For out latest recordings please follow Richard Irwin on:  SoundCloud / Twitter / Facebook / Apple Music / Spotify
New Christmas Joy Carol Album Released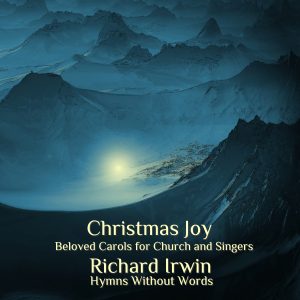 Christmas Joy – Beloved Carols For Church and Singers  this is a collection of favourite carols revisited with new fresh instrumental recordings. The carols are recorded without words to accompany carol singers in church, at home or wassailing abroad!
Available from all good streaming services and on CD.
The Hymns Without Words Lectionary
Christmas Single Released, Sung by soprano Maria Mitich
God Sent His Son (Glory Alleluia) with words by Colin Gordon-Farleigh with music by Richard Irwin, please help us get this into the charts.
Build a Better World 2021 – Environmental Fundraising Through Music
Hymns Without Words is supporting the environmental fundraising effort of Build a Better World 2021. More information can be found  here, or just click on the Better World track below.
Follow us on Twitter @betterworldsong!
Play the song and raise money for charity!
Sung by Cindy Hall – Sheer Joy Music