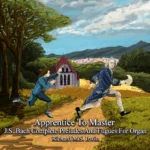 Please help us to support Cancer Research by buying the acclaimed album Apprentice to Master: The Complete Preludes and Fugues for Organ – worldwide delivery available.
BWV 531 : Recording
BWV 531 : A Summary
Apprentice to Master: Disk 1 – Track 1 : J.S. Bach Prelude and Fugue in C Major BWV 531, by Johann Sebastian Bach (1685-1750), one of the most renowned composers of the Baroque period. Here is a summary of what is known about this composition:
This is one of the earliest of J.S. Bach's Preludes and Fugues for organ, composed by the young, 22-year-old Bach towards the end of his tenure as church organist at the New Church (Neue Kirche) at Arnstadt, a position he had held since the age of 18.
The Prelude opens with nine bars performed entirely using the pedals of the organ, before blossoming into arpeggiaic figures on the manuals, soon re-joined by the bass in imitation. The Fugue is based on a two-bar subject which is imitated and re-worked in the interweaving voices. Many dissonant sustained 'suspension' notes can be heard as the harmony shifts and alters through various keys before arriving back at C major.
Buy the CD Album by clicking here. £2.50 will be donated to Cancer Research for each copy sold.