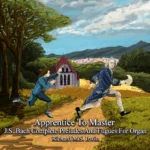 Please help us to support Cancer Research by buying the acclaimed album Apprentice to Master: The Complete Preludes and Fugues for Organ – worldwide delivery available.
BWV 551 : Recording
BWV 551 : A Summary
Apprentice to Master: Disk 1 – Track 3 : J.S. Bach Prelude and Fugue in A Minor BWV 551, by Johann Sebastian Bach (1685-1750), one of the most renowned composers of the Baroque period. Here is a summary of what is known about this composition:
J.S. Bach is believed to have composed the Prelude and Fugue in A minor, BWV 551 in 1707 while working as church organist in Arnstadt.
The Prelude begins with a rising A minor scale in the manuals, soon joined by a second voice in harmony. A trill-like subject is introduced in the manuals and recurs fugally, with each repetition heard in a progressively lower voice as the texture builds. A sustained chordal passage leads directly into the Fugue, whose first subject – a descending A minor arpeggio followed by a chromatic ascent – is initially stated in the soprano voice of the manuals (although is not heard solo in its entirety as a semiquaver countermelody swiftly enters) and then first recurs as a transposed 'answer' in the pedals. The Fugue draws to a close with a final Prelude-like section.
Buy the CD Album by clicking here. £2.50 will be donated to Cancer Research for each copy sold.