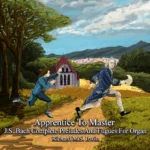 Please help us to support Cancer Research by buying the acclaimed album Apprentice to Master: The Complete Preludes and Fugues for Organ – worldwide delivery available.
BWV 532 : Recording
BWV 532 : A Summary
Apprentice to Master: Disk 1 – Track 2 : J.S. Bach Prelude and Fugue in D Major BWV 532, by Johann Sebastian Bach (1685-1750), one of the most renowned composers of the Baroque period. Here is a summary of what is known about this composition:
Bach is thought to have completed the Prelude and Fugue in D Major c. 1710 as a revision of an earlier version (known as BWV 532/2a) he wrote c. 1708. This would have been among the first pieces Bach wrote while organist at the Weimar court, a tenure he would hold for nine years after having left the church at Arnstadt.
The Prelude is made up of three sections: an initial rousing opener with rising D major scales in the pedals, followed by a more measured Alla breve section, then by way of an arresting cadence the final Adagio. The Fugue that follows is based on an eight-bar semiquaver subject resembling a turn ornament, and ventures into distant tonalities as the counterpoint develops.
Buy the CD Album by clicking here. £2.50 will be donated to Cancer Research for each copy sold.