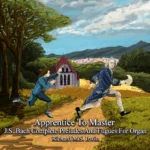 Please help us to support Cancer Research by buying the acclaimed album Apprentice to Master: The Complete Preludes and Fugues for Organ – worldwide delivery available.
BWV 550 : Recording
BWV 550 : A Summary
Apprentice to Master: Disk 1 – Track 5 : J.S. Bach Prelude and Fugue in G Major BWV 550, by Johann Sebastian Bach (1685-1750), one of the most renowned composers of the Baroque period. Here is a summary of what is known about this composition:
Bach wrote this Prelude and Fugue in G Major c. 1710 in the early part of his tenure as church organist at the Weimar court. The Prelude is characterised by a three-note motif of alternating neighbour notes and begins with this gesture in the upper manuals. The opening passage repeats an octave lower and is joined in imitation by other voices and harmonised by rising and falling scales. An intricate solo pedal passage gives way to a sustained pedal G, grounding the tonality while the manuals play out above in imitation. A slower chordal section concludes the Prelude. The Fugue begins with a 6-bar subject in the lower manuals which is restated twice in succession at higher pitch, then lastly appears in the pedals. The Fugue moves through a range of keys, often by way of sequences working around the circle of fifths.
Buy the CD Album by clicking here. £2.50 will be donated to Cancer Research for each copy sold.