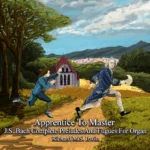 Please help us to support Cancer Research by buying the acclaimed album Apprentice to Master: The Complete Preludes and Fugues for Organ – worldwide delivery available.
BWV 535 : Recording
BWV 535 : A Summary
Apprentice to Master: Disk 1 – Track 8 : J.S. Bach Prelude and Fugue in G Minor BWV 535, by Johann Sebastian Bach (1685-1750), one of the most renowned composers of the Baroque period.
Bach is believed to have composed BWV 535 during his tenure as organist at the Weimar court. The Prelude opens with a leaping arpeggiaic idea centred in G minor which settles into a regular off-beat chord pattern as a slow melody presents itself in the foreground. A rapid, virtuosic section of demisemiquavers follows, before a slower chordal section concludes the Prelude. The Fugue begins with a four-bar subject in the upper manuals featuring the dissonant tritone interval (heard after the first set of repeated notes). A countersubject carries on in the upper manuals as the subject enters again, this time transposed a 4th lower, and subsequent entries appear successively lower. After all voices have presented the subject, the lower voices drop out leaving a lighter texture as the soprano subject is harmonised by arpeggios. The Fugue develops, passing through various changes of harmony and texture until a final demisemiquaver passage draws the Fugue to a close, grounded by a pedal G.
Buy the CD Album by clicking here. £2.50 will be donated to Cancer Research for each copy sold.