To Whom Will You The Lord Compare? : Lyrics
1. To whom will you the Lord compare?
Is there His equal anywhere?
O lift up your eyes and the heavens survey,
Who made this most amazing display?
2. The Lord Himself formed all these arrays
Of galaxies, of milky ways,
He cares for each one of the vast starry host,
So great is He, not one becomes lost.
3. So why then say your way is not clear,
Why do you say "The Lord is not near,"
For have you not known this, and have you not heard,
The Everlasting God is your Lord?
4. And He who made the Heavens and earth
Sees all your need, knows all your worth;
He never grows tired, or weary or faint,
He cares for sinners, loves every saint.
5. He aids the weary, strengthens the frail,
And even strong ones falter and fail;
But those who patiently wait on the Lord
With eagles' wings will rise up and soar.
6 Trust in the Lord for He ever lives,
Run in the strength that Jesus gives;
Walk on in Him Who never lets down,
Who keeps for ever, gives a crown.
To Whom Will You The Lord Compare? : Recording
To Whom Will You The Lord Compare? : Free MP3 Download
The music used in this recording belongs in the Public Domain, but the Performance rights belong to Richard Irwin Music®. Please contact us if you wish to use the recordings other than for use in divine worship or for personal use.
This website is free to use, but not to operate. If you use our free MP3 hymns, please consider a donation to help keep this service free. Many thanks.
To keep up to date with the latest recordings, add your email address to our newsletter list. Please also follow us on Amazon Music, Apple Music, Tidal, Spotify, SoundCloud, Twitter, YouTube, Facebook and Instagram.ce free.
Please Right-Click and Save Link if needed
To Whom Will You The Lord Compare? : Inspiration
Anthony Oliver Robertson (1932-2017) was inspired by this passage in the Book of Isaiah 40:25-31
To whom then will ye liken me, or shall I be equal? saith the Holy One.Lift up your eyes on high, and behold who hath created these, that bringeth out their host by number:
he calleth them all by names by the greatness of his might, for that strong in power; not one faileth.
Why sayest thou, O Jacob, and speakest, O Israel,
My way is hid from the LORD, and my judgment is passed over from my God?
Hast thou not known? hast thou not heard, that the everlasting God, the LORD, the Creator of the ends of the earth, fainteth not, neither is weary?
There is no searching of his understanding.
He giveth power to the faint; and to them that have no might he increaseth strength.
Even the youths shall faint and be weary, and the young men shall utterly fall:
But they that wait upon the LORD shall renew their strength; they shall mount up with wings as eagles;
they shall run, and not be weary; and they shall walk, and not faint.
Text from the King James Version, public domain.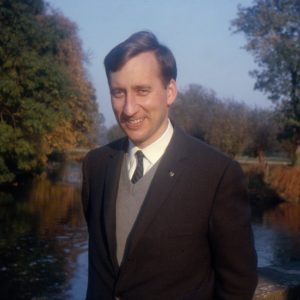 Anthony Oliver Robertson (1932-2017) was an Australian hymnist and retired general surgeon.
Early in his twenties, at the end of his medical course in 1956, Anthony came into an experience of the love of God in Christ which changed the direction of his life completely. After surgical training in Australia he went to England.
In 1965 he worked in Iran with the Christian Mission Society (CMS) and in due course returned to Australia where he stayed.
Anthony had a broad denominational outlook and an evangelical and reformed understanding of the faith. He loved the simple and yet profound Gospel of our salvation in Christ, and as you will see from his hymns, he had the desire to share the knowledge and love of God with others.