Charles Hubert Hastings Parry (1848-1918)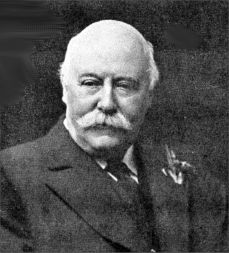 Sir Charles Hubert Hastings Parry (1848-1918) was born in Bournemouth, Dorset, and brought up at Highnam Court, Gloucestershire. He was the son of the artist and collector Thomas Gambier Parry. Educated at Eton and then Exeter College, Oxford. He married Lady Elizabeth Maude Herbert (1851–1933), 2nd daughter of the statesman Sidney Herbert, 1st Baron Herbert of Lea by Elizabeth Ash à Court-Repington. They had two daughters.
He studied under English-born composer Henry Hugo Pierson in Stuttgart, and with William Sterndale Bennett in London. His first major works appeared in 1880: a piano concerto and a choral setting of scenes from Shelley's Prometheus Unbound. Parry scored a greater contemporary success, however, with the ode Blest Pair of Sirens (1887) which established him as the leading English choral composer of his day. Among the most successful of a long series of similar works were the Ode on Saint Cecilia's Day (1889), the oratorios Judith (1888) and Job (1892), the psalm-setting De Profundis (1891) and The Pied Piper of Hamelin (1905). His orchestral works from this period include four symphonies, a set of Symphonic Variations in E minor, the Overture to an Unwritten Tragedy (1893) and the Elegy for Brahms (1897). He also wrote music to accompany the 1883 Cambridge Greek Play 'The Birds' by Aristophanes, a production which starred the brilliant mediaevalist and ghost-story writer, M.R. James.
Parry joined the staff of the Royal College of Music in 1884 and was appointed its director in 1894, a post he held until his death. In 1900 he succeeded John Stainer as professor of music at Oxford University. His later music includes a series of six "ethical cantatas", experimental works in which he hoped to supersede the traditional oratorio and cantata forms. They were generally unsuccessful with the public, though Elgar admired The Vision of Life (1907) and The Soul's Ransom (1906) has had several modern performances. He resigned his Oxford appointment on doctor's advice in 1908 and in the last decade of his life produced some of his finest works, including the Symphonic Fantasia '1912' (also called Symphony No. 5), the Ode on the Nativity (1912), Jerusalem (1916) and the Songs of Farewell (1916–1918).
Influenced as a composer principally by Bach and Brahms, Parry evolved a powerful diatonic style which itself greatly influenced future English composers such as Elgar and Vaughan Williams. His own full development as a composer was almost certainly hampered by the immense amount of work he took on, but his energy and charisma, not to mention his abilities as a teacher and administrator, helped establish art music at the centre of English cultural life. He collaborated with the poet Robert Bridges, and was responsible for many books on music, including The Evolution of the Art of Music (1896), the third volume of the Oxford History of Music (1907) and a study of Bach (1909).
He was created a knight, and the first Baronet of Highnam in the Baronetage of the United Kingdom in 1902.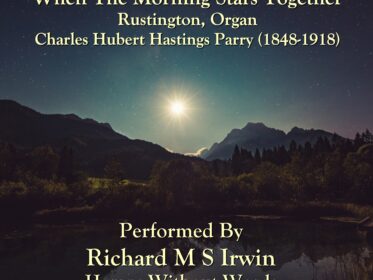 When The Morning Stars Together : Recording When The Morning Stars Together : Free MP3 Download The music used in
More