Albert Lister Peace (1844 – 1912)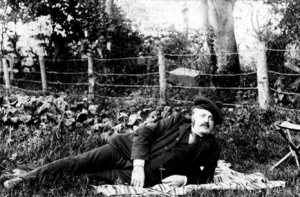 Albert Lister Peace (1844 – 1912) was an English organist and composer. Born in the Lockwood district of Huddersfield in Yorkshire, England, son of Lister Peace (a Warehouseman and Woolstapler) and Elizabeth Radcliffe, a singing teacher.
Described as a "precocious pupil" of Henry Horn and H. Parratt he was found to be a fine organist, becoming organist of Holmfirth Parish Church near Huddersfield at just nine years old. In 1865 he was appointed organist of Trinity Congregational Church in Glasgow he gained Bachelor of Music degree in 1870, followed by a Doctorate in 1875, both awarded by the University of Oxford.
In 1879 he became organist of Glasgow Cathedral; and in 1897 he succeeded Best as organist of St. George's Hall, Liverpool. He died March 14th 1912 in Liverpool.
His main works include:
Psalm 138, for choir and orchestra;
Cantata St. John the Baptist;
Three Sonata de Camera in D minor, C minor and G minor;
Concert Fantasia on Scotch melodies;
Concert Fantasia No. 2 in B flat minor;
Church-services; anthems; organ-music, etc.
(Thanks to Kerr Jamieson for his help on the biography)
O Love That Wilt Not Let Me Go : Lyrics Also known as O Love That Will Not Let Me
More