John Nicholson Ireland (1879 – 1962)
John Nicholson Ireland (1879 – 1962) was born in Bowdon, near Altrincham, Manchester, into a family of Scottish descent and some cultural distinction. His parents died soon after he entered the Royal College of Music at the age of 14. He studied piano and organ there, and later composition under Charles Villiers Stanford. He subsequently became a teacher at the College himself, his pupils including the socialist composer Alan Bush, Geoffrey Bush (no relation), who subsequently edited or arranged many of Ireland's works for publication, Ernest John Moeran (who admired him) and Benjamin Britten (who found Ireland's teaching of less interest). He was sub-organist at Holy Trinity Church, Sloane Street, London SW1, and later became organist and choirmaster at St. Luke's Church, Chelsea, London.
Ireland frequently visited the Channel Islands and was inspired by their landscape. He was evacuated from them just before the German invasion during World War II.
John Ireland was a lifelong bachelor, except for a brief interlude when, in quick succession, he married, separated, and then sought an annulment. Ireland retired in 1953, settling in the small hamlet of Rock in Sussex, where he lived in a converted windmill for the rest of his life. He died at age 82 in Washington, Sussex of heart failure. He is buried in Shipley churchyard near his home.
From Charles Villiers Stanford, Ireland inherited a thorough knowledge of the music of Beethoven, Brahms and other German classical composers, but as a young man he was also strongly influenced by Debussy and Ravel as well as by the earlier works of Stravinsky and Bartók. From these influences, he developed his own brand of English Impressionism, related more closely to French and Russian models than to the folk-song style then prevailing in English music.
Like most other Impressionist composers, Ireland favoured small forms and wrote neither symphonies nor operas, although his Piano Concerto is among his best works. His output includes some chamber music and a substantial body of piano works, including his best-known piece The Holy Boy, known in numerous arrangements. His songs to poems by A. E. Housman, Thomas Hardy, Christina Rossetti, John Masefield, Rupert Brooke and others, are a valuable addition to English vocal repertoire, and in the opinion of some are among the best of English art song. Due to his job at St Luke's Church, he also wrote hymns, carols, and other sacred choral music; among choirs he is probably best known for the anthem Greater love hath no man, often sung in services that commemorate the victims of war. His Communion Service in C is also performed.
Ireland also wrote the score for the Australian film The Overlanders (his only film score), from which an orchestral suite was extracted posthumously by Charles Mackerras. Some of his pieces, such as the popular A Downland Suite and Themes from Julius Caesar, were completed or re-transcribed after his death by his student Geoffrey Bush.
My Song Is Love Unknown (Love Unknown, Organ, 7 Verses)

My Song Is Love Unknown : Lyrics My song is love unknown, My Saviour's love to me; Love to the loveless shown, That they might lovely be. O who am I, that for my sake My Lord should take, frail flesh and die? He came from His blest throne Salvation to bestow; But men made strange, and none The longed for Christ would know: But O! ...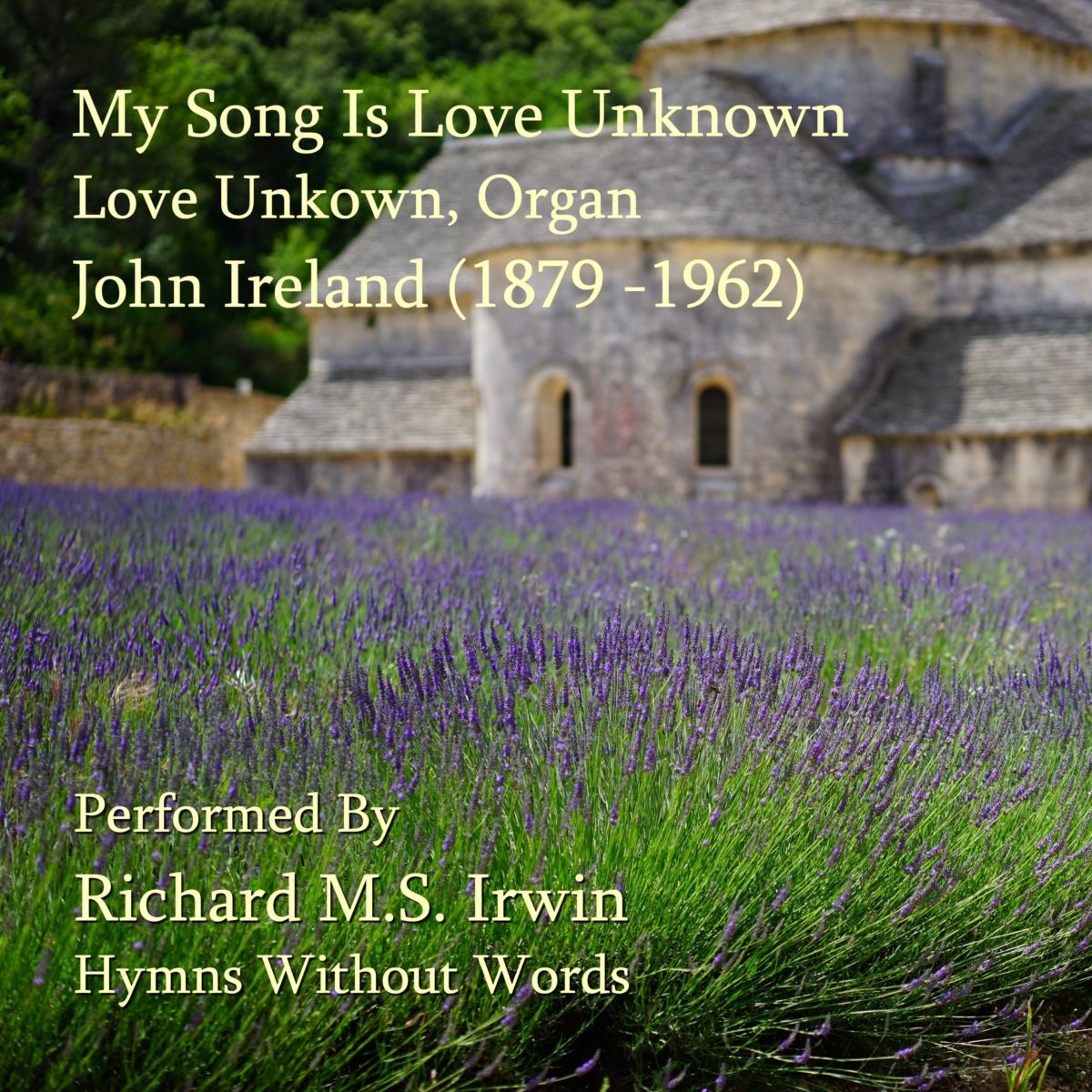 My Song Is Love Unknown : Lyrics My song is love unknown, My Saviour's love to me; Love to the
More