Francis Bland Tucker (1895 – 1974)
Rev. Francis Bland Tucker (1895 – 1974) was an American Bible scholar, Episcopalian priest and hymn writer. Born in Norfolk, Virginia, he was one of the 13 children of Bishop Beverley Dandridge Tucker,  the second bishop of the Episcopal Diocese of Southern Virginia.
In 1925 he became rector of St. John's Church, Georgetown, Washington, D.C, where he served for 20 years. He then became rector of John Wesley's parish in Georgia, old Christ Church, Savannah until retiring in 1967.
During Civil Rights protests early in his Savannah ministry, Tucker refused to condone the practice of white churches excluding people at services for fear of "kneel-ins." He declaimed in response "I would not presume to speculate as to why my own parishioners come to church, much less someone I do not know," so Christ Church's doors remained open to any who wished to enter and remain so to this day.
He was member of the Joint Commission on the Revision of The Hymnal published in 1940 The Hymnal 1940 Companion, and the Joint Commission on Church Music of the Episcopal Church where he served from 1946 to 1958.
His talent was in providing new phrases in older hymns where the original lines were too obsolete or sexist for late-twentieth-century congregation.
Several of the hymns which he wrote for The Hymnal 1940 have been adopted by hymnals of other denominations. In 1980, he was named a Fellow of the Hymn Society of America.
All Praise To Thee For Thou O King Divine (Engelberg, Organ, 5 Verses)

All Praise To Thee For Thou O King Divine : Recording https://soundcloud.com/richardirwinmusic/all-praise-to-thee-for-thou-o-king-divine-engelberg-organ-5-verses-2021 Tune: Engelberg, composed by Charles Villiers Stanford (1852-1924). Music Public Domain. Performance ℗ 2021 Richard Irwin Music®. UKTU21900293. All rights reserved. All Praise To Thee For Thou O King Divine : Free MP3 Download Please Right-Click and Save Link if needed The music used in this recording belongs in the ...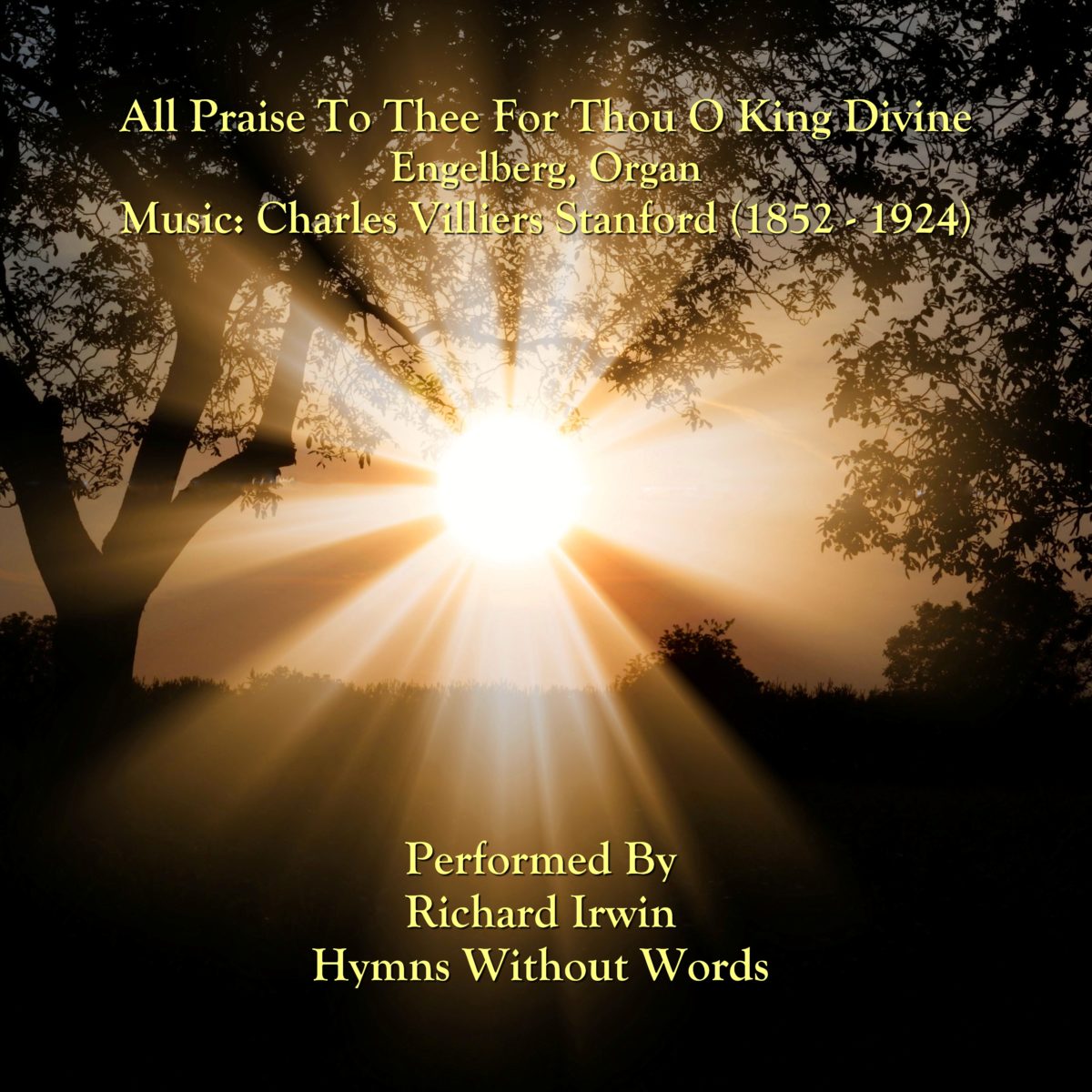 All Praise To Thee For Thou O King Divine : Recording Tune: Engelberg, composed by Charles Villiers Stanford (1852-1924). Music
More