St John of Damascus (c. 675 – 749)
St John of Damascus (c. 675 – 749) also called St. John Damascene, was born in Damascus around 675 or 676 A.D., after Syria fell from Christian control into the hands of the Moslem Caliphate. According to Christian tradition, St. John became a monk at the Mar Saba monastery around the age of 40. According to the same tradition, he was ordained to the priesthood in 735 A.D.
He wrote three highly-spirited treatises defending the use of icons during a period when the Byzantine Emperor Leo III banned them. St. John's position prevailed at the Seventh Ecumenical Council, which met at Nicea in 787 A.D., 38 years after his death in 749 A.D. His best-known writing was The Fountain of Wisdom, a three-part work also known as the Fountain of Knowledge, which included An Exact Exposition of the Orthodox Faith (part 3 of the trilogy), one of the earliest comprehensive explanations of Church Doctrine.
His greatest accomplishment was his hymn-writing. According to tradition, he composed many hymns in his lifetime, one of which, The Day of Resurrection, is still sung at Easter in the Anglican, Episcopal and Lutheran tradition. In the Anglican tradition the 18th C. German tune Ellacombe is used. Another of his hymns used in the Anglican tradition at Easter is Come, Ye Faithful, Raise the Strain (usually sung to the mid-16th C. tune Gaudeamus pariter). He was declared a Doctor of the Church by Roman Catholic Pope Leo XIII in 1890 A.D.
With thanks to The Rev. Dr. Ronald E. Shibley of the Anglican Internet Church for this biography, Founder & Director, The Anglican Internet Church Business address: 7162 Soft Wind Lane, Mechanicsville, VA 23111-5623 (804) 559-2690
Anglican Internet Church:
Hymns associated with St John of Damascus (c. 675 – 749)
Come Ye Faithful Raise The Strain (Ave Virgo Virginum, Organ, 4 Verses)

Come Ye Faithful Raise The Strain : Lyrics 1. Come, ye faithful, raise the strain Of triumphant gladness! God hath brought his Israel Into joy from sadness; Loosed from Pharaoh's bitter yoke Jacob's sons and daughters; Led them with unmoistened foot Through the Red Sea waters. 2. 'Tis the spring of souls to-day; Christ hath burst his prison, And from three days' sleep in death As a ...

The Day Of Resurrection (Ellacombe, Organ, 3 Verses)

The Day Of Resurrection : Recording https://soundcloud.com/richardirwinmusic/the-day-of-resurrection-ellacombe-3-verses-organ Tune: Ellacombe, composer anonymous, from the hymnal: Wüttemburg Gesangbuch (1784). Public Domain. Meter: 76 76 D. Performance ℗ 2020 Richard Irwin Music®. All rights reserved.  ISRC UKTU21900129 The Day Of Resurrection : Free MP3 Download Please Right-Click and Save Link if needed The music used in this recording belongs in the Public Domain, but the ...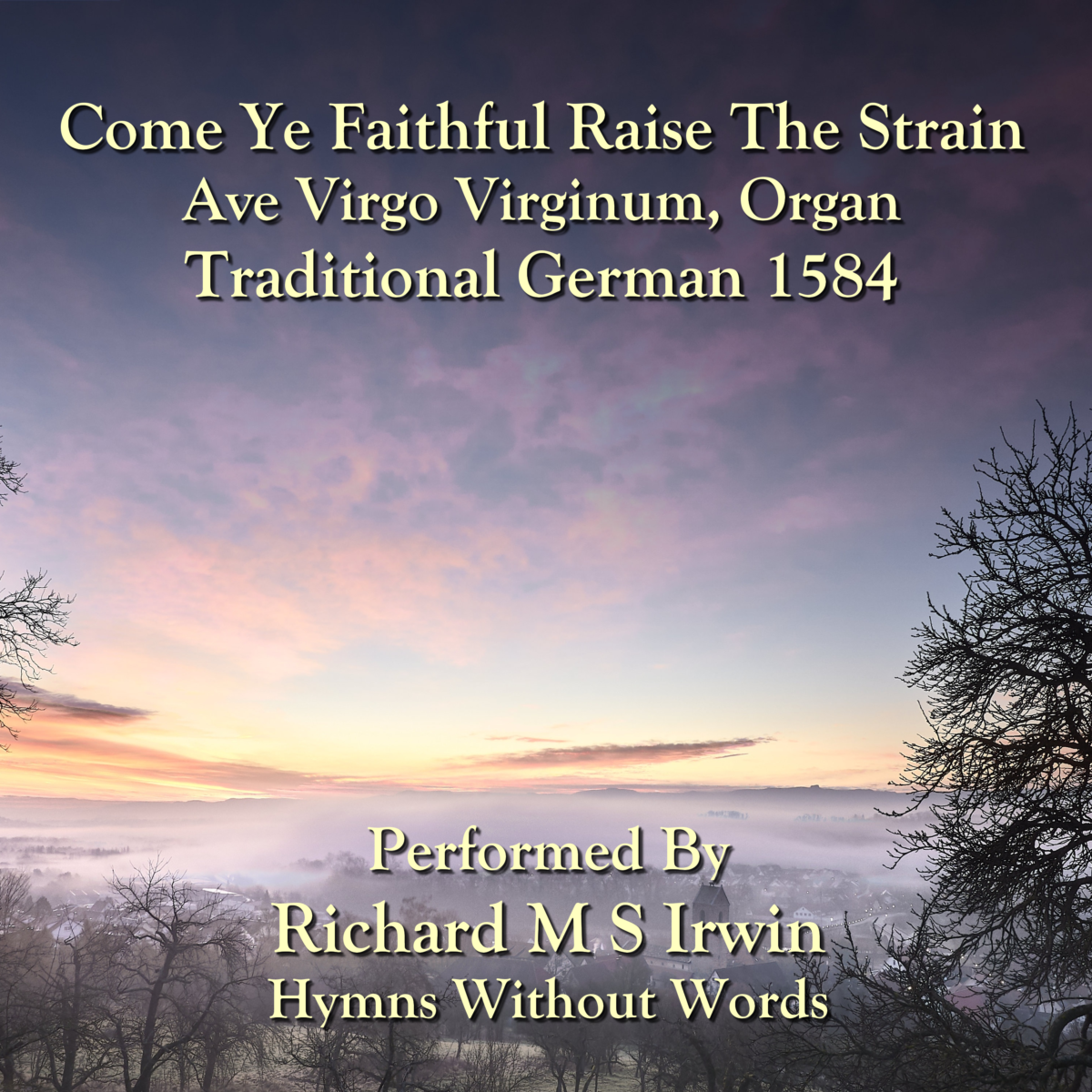 Come Ye Faithful Raise The Strain : Lyrics 1. Come, ye faithful, raise the strain Of triumphant gladness! God hath
More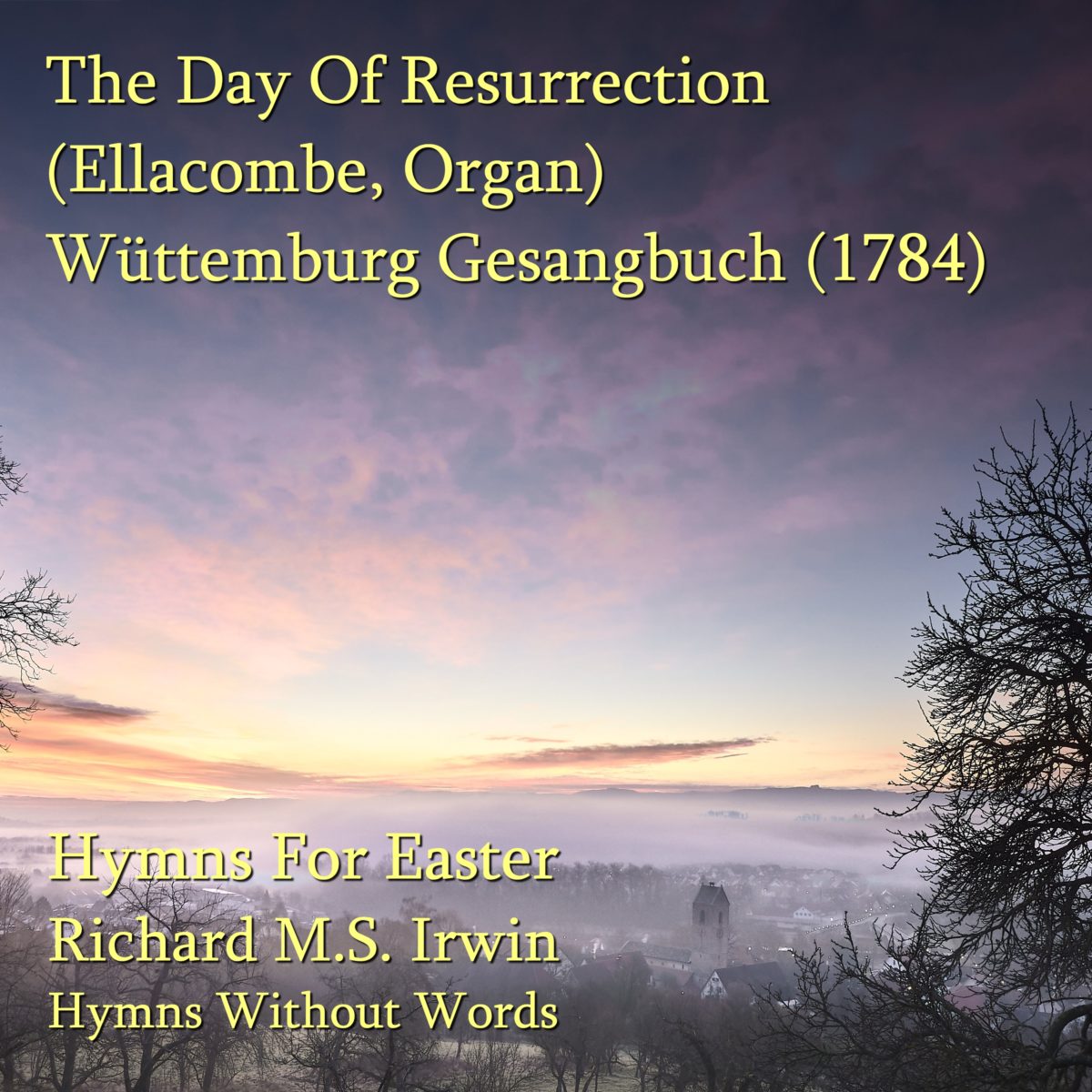 The Day Of Resurrection : Recording Tune: Ellacombe, composer anonymous, from the hymnal: Wüttemburg Gesangbuch (1784). Public Domain. Meter: 76 76
More