George Matheson (1842 – 1906)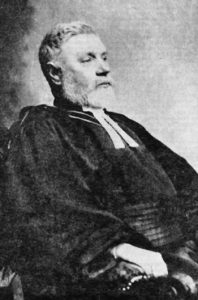 George Matheson (1842 – 1906) was a Scottish theologian and preacher. He was born in Glasgow, Scotland, son of George Matheson, a merchant and Jane Matheson, the eldest of eight. Educated at the University of Glasgow, he graduated with a First in classics, logic and philosophy. In his twentieth year he became totally blind, but he held to his resolve to enter the ministry, and gave himself to theological and historical study. In 1879 the University of Edinburgh conferred upon him the honorary degree of D.D.. In 1890, he became a fellow of the Royal Society of Edinburgh. He died suddenly of apoplexy on the 28th of August 1906 in Edinburgh and is buried in the Glasgow Necropolis.
Before going blind, Matheson had been engaged, but his fiancée could not face going through life with a blind man. He wrote "O Love That Wilt Not Let Me Go" on the evening of his sister's wedding, she had been the one caring for him through the years. He was now 40, and his sister's marriage brought a fresh reminder of his own heartbreak and it was in the midst of this sadness that Matheson was inspired to write the hymn, which he said was written in five minutes.
O Love That Wilt Not Let Me Go (St Margaret, Organ, 4 Verses)

O Love That Wilt Not Let Me Go : Lyrics Also known as O Love That Will Not Let Me Go.  This recording of O Love That Wilt Not Let Me Go has been made to accompany singers in Church Services. 1. O Love that will not let me go, I rest my weary soul in thee; I give thee ...
O Love That Wilt Not Let Me Go : Lyrics Also known as O Love That Will Not Let Me
More