Elisha Albright Hoffman (1839 – 1929)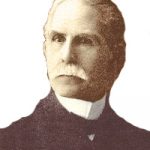 Elisha Albright Hoffman (1839 – 1929) was an American Presbyterian Minister and hymn writer. The son of an Evangelical minister, Hoffman grew up singing hymns at home and in church. He attended the Union Seminary in New Berlin, Pennsylvania and was ordained in 1873.
Hoffman began work with the publishing branch of the Evangelical Association in Cleveland, Ohio. He also had a number of pastoral positions in the midwest including: Cleveland and Grafton, Ohio, and Benton Harbor, Michigan Cabery, Illinois.
Hoffman is believed to have composed over 2,000 hymns, and edited over 50 song books, including:
The Evergreen, 1873
Spiritual Songs for Gospel Meetings and the Sunday School, 1878
Temperance Jewels 1879
Bells of Victory 1888
year-a-pentecostal Hymns No. 1
Lyrics 1. Have you been to Jesus for the cleansing power? Are you washed in the blood of the Lamb?
More